AN URBAN MISSIONS GAP YEAR PROGRAM FOR YOUNG ADULTS
Fall 2023 Institute: September 5, 2023 – August 10, 2024
(Application Closes July 17, 2023)
Winter 2024 Institute: January 2, 2024 – December 14, 2024
(Application Closes November 13th, 2023)
Bring social change with the gospel by working with an innovative nonprofit and serving your urban neighbors.
Experience community like never before as you live and do ministry with other Christian young adults.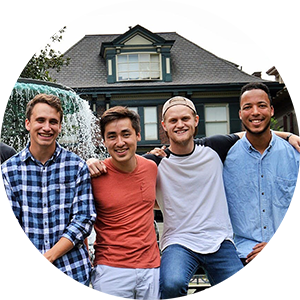 Grow in your faith by walking in the life and lifestyle of Jesus and being a part of a vibrant, healthy church.
My LTN community became my family - some of the strongest friendships I've ever had. I have never felt so supported and known!

Dani

Institute Alumni
God used LTN to foster a love for Christian community, a desire to live like Christ and an ability to see the dignity of 'the least of these.'

Cameron

Intensive Alumni
God used my time in the LTN Intensive to build my boldness. This has shaped my relationships with neighbors, friends and family.

Heather

Institute Alumni
As a part of their Urban Missions Gap-Year experience, LTN Institute members serve the community by interning with one of our nonprofit Service Site partners 25-30 hours per week. During this time LTN Institute members help to meet the needs of our community in the areas of homelessness, the adult entertainment industry, crisis pregnancy, healthcare, refugees, construction & low-income housing, education, orphan care, podcasting, visual arts and more.
You will be part of an Urban Missions Gap-Year program that is centered on the gospel of Christ.
You will visit museums, meet with experts and travel to other cities to learn firsthand.
Move beyond idealism and concepts as you come into contact with new events, worldviews and people.
Gain invaluable practical experience as you serve on the frontlines of an innovative nonprofit and make an impact.
Grow in your self-awareness and relational health as you learn more about the way you perceive, process and present to the world.
Take time away from your routines to let Christ nourish your soul as you reflect, rest and recalibrate.
LIFE COACHING
& MENTORSHIP
Receive friendship, counsel and wisdom from another Christian as they help coach you through your experience.
Dive into the scriptures, spiritual disciplines and the wisdom of God as you grow in your faith and apply it to your life.