AN URBAN MISSIONS GAP YEAR PROGRAM FOR YOUNG ADULTS
Fall 2024 Institute
September 3, 2024 – August 2, 2025
Apply by Feb. 26th to receive a $1,500 scholarship.
APPLY NOW
Bring social change with the gospel by working with an innovative nonprofit and serving your urban neighbors.
Experience community like never before as you live and do ministry with other Christian young adults.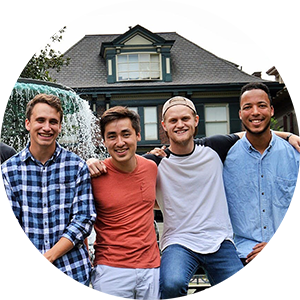 Grow in your faith by walking in the life and lifestyle of Jesus and being a part of a vibrant, healthy church.
My LTN community became my family - some of the strongest friendships I've ever had. I have never felt so supported and known!

Dani

Institute Alumni
God used LTN to foster a love for Christian community, a desire to live like Christ and an ability to see the dignity of 'the least of these.'

Cameron

Intensive Alumni
God used my time in the LTN Intensive to build my boldness. This has shaped my relationships with neighbors, friends and family.

Heather

Institute Alumni
As a part of their Urban Missions Gap-Year experience, LTN Institute members serve the community by interning with one of our nonprofit Service Site partners 25-30 hours per week. During this time LTN Institute members help to meet the needs of our community in the areas of homelessness, the adult entertainment industry, crisis pregnancy, healthcare, refugees, construction & low-income housing, education, orphan care, podcasting, visual arts and more. View All Service Opportunities Here
What do our alumni have to say about their experience serving with Love Thy Neighborhood? How does LTN shape the lives of young adults in the years following their service?
SIGN UP FOR AN INFO SESSION
CHRISTIAN COMMUNAL LIVING
Experience intentional life with other Christian young adults as housemates, friends and teammates.
Engage in a journey of self-discovery and skill enhancement with seasoned Christian leaders guiding you into your potential.
Delve deeper into your faith, apply its teachings in everyday life, and foster a nurturing mentor-mentee relationship with a seasoned Christian.
Receive insightful teachings on contemporary cultural challenges, aiding you in forming a nuanced Christian perspective.
Acquire hands-on experience and make a meaningful impact as you serve with an innovative nonprofit at the forefront of change.
Learn more than theoretical understanding as you immerse yourself in diverse cultural settings and enrich your life experiences.
Explore your personal interests and skill sets, see how they align with real-world vocations and develop them serving at an innovative nonprofit.
Engage with the world around you, learning more about your own perceptions, responses, and relational dynamics in practical settings.