What is a day in the life of an intern like?
Recently, Love Thy Neighborhood Interns took over our social media for a day. The goal was to give viewers a glimpse of the #LTNlife. Here's what happened…
[x_video_embed type="16:9″ no_container="true"][/x_video_embed]
What is a week in the life of an intern like?
Every day, our interns get the opportunity to serve, learn, grow and rest well. Here's how we make that happen on a weekly basis: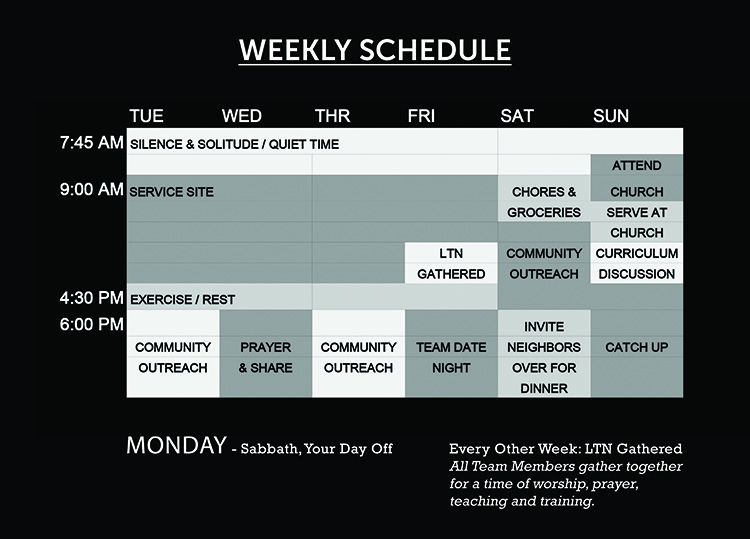 During our bi-weekly LTN Gathered teaching times, we've explored topics such as: 
The Relational Impact of the Gospel
Racial Identity & Race Relations
LGBTQ
Contextualizing Ministry for the Inner-City
Understanding My Personality
Spiritual Disciplines
How to Build Lifelong, Gospel Friendships
Addiction
How to Take Risks and Initiative
+ more
What are some of the benefits of interning with LTN?
Hands-On Internship Experience
Intentional Living with other Christians
Serving People Who Need Your Help
Behind-the-Scenes Access to Key Ministry Leaders & Innovative Ministry Movements
Gain Professional Work Experience
Fully Furnished Housing
Living Expenses Covered
Retreat at our Beautiful Mystery Location
Our Mind-Blowing, In-Depth Personality Workshop
Life Skills Coaching
Gospel-Focused Community Through a Local Church
We have a limited number of spots for both our upcoming year and summer terms! Apply today and join us! We'd love to have you!
[x_button shape="rounded" size="large" float="none" block="true" href="https://lovethyneighborhood.org/apply/" info="none" info_place="top" info_trigger="hover"]APPLY NOW![/x_button]