– A PODCAST TO HELP YOU –
BUILD BETTER RELATIONSHIPS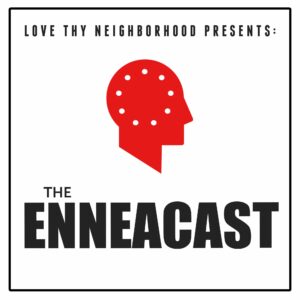 "LIKE A THERAPY SESSION IN MY CAR"
– Apple Podcasts Review
A workshop/interview/game show for your relational health. Welcome to The EnneaCast, a bi-weekly show that explores personality and the Enneagram through the lens of the gospel. Every episode combines teaching, an interview and a game into a fascinating and fun listening experience. Hosted by Jesse Eubanks and Lindsey Lewis, The EnneaCast features authors, artists, pastors and counselors sharing their wisdom with one goal in mind: to help you experience more meaningful relationships with God, yourself and others.
Are you interested in being a guest on one of our shows? Do you want to have Jesse as a guest? Have an interesting topic for us to explore?
Contact our podcast team: podcast@lovethyneighborhood.org.
The Love Thy Neighborhood podcast is funded by generous donors just like you. Make a one-time or recurring donation to the Love Thy Neighborhood podcast. All donations are tax-deductible.
Wanna give via mail? Send your gift to:
Love Thy Neighborhood, 1143 S. 3rd Street, Ste. B, Louisville, KY 40203
with "Podcast" on the memo line.
$50
$100
$250
Other