Love Thy Neighborhood is announcing today that Leandro Lozada will be leaving the ministry in early September 2021. Leandro volunteered with Love Thy Neighborhood for almost two years as team care coordinator before coming on staff in 2017 as director of the urban missions program.
"Over the last six years, Leandro has made a permanent mark on the lives of hundreds of young adults," says Founder and Executive Director Jesse Eubanks. "He has helped them to have a vision for walking with Jesus and to live intentional lives full of God's love. His passion, his character, and his love for our team members is going to be missed."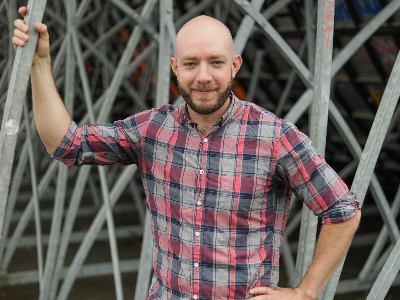 What was Leandro's favorite part of serving with Love Thy Neighborhood? "Being able to journey with team members," he says. "Being able to spend time with young adults and encourage them to receive the grace and love of God – especially reminding them that God's delight for them heals their shame and that they are new creations in Christ."
He continued: "I enjoyed becoming friends with so many of the Team Members. Talking with them and serving them was a joyful experience. The mission of shaping young adults and cultivating their growth in Jesus was an amazing opportunity."
As part of his approach to shaping young, urban missionaries, Leandro led LTN Gathered every two weeks – bringing all team members together for a time of worship, fellowship, and teaching. When asked which speakers or topics Leandro looks back on with the most fondness, he cited a talk by Andy Crouch ("Oh! My favorite thinker!"), author of The Tech-Wise Family, who taught team members how to have a healthy relationship with technology. Recently, Leandro also invited former WNBA player Chantelle Anderson from AND Campaign, who spoke about engaging in politics as a Christian. Leandro comments that "she was so nuanced and kept the gospel at the forefront."
Anyone who knows Leandro also knows he loves to laugh. What was the most fun he had as program director? "Pranks. The team members really got me good on several occasions. I also managed to return the favor a few times."
Leandro, your joyful spirit, curious mind, and big heart will be missed. The Love Thy Neighborhood community will be praying for you as you continue to share your passion, gifts, and faith with others in the next season of life.
As Leandro transitions from Love Thy Neighborhood, Recruitment & Admissions Director Rachel Hamm will be stepping in as Interim Program Director. She will be supported by current Program Assistant Lindsey Lewis. Both Rachel and Lindsey hold extensive ministry experience and a passion for helping young adults grow into mature Christian leaders.